After the departure of Malcolm Cecil and Robert Margouleff, Stevie's music would evolve once again. It had to. Fulfillingness' First Finale had given Stevie eight Grammy wins. Paul Simon, the 1975 Album of the Year winner, thanked Stevie Wonder for not making an album in his acceptance speech. At such vertiginous heights, nothing less than another paradigm-shifting work was acceptable. Furthermore, Wonder's newly negotiated contract came with expectations of more hits. As Rolling Stone recounts, his Motown deal would give him $13 million over 7 years (with bonuses up to $37 million), more than Neal Diamond and Paul McCartney combined. He also had 20% royalties, complete control of his publishing, freedom to work wherever he wanted with whoever he wanted, and veto power over any single. He even had final control over any potential sale of Motown. With his newfound freedom, Stevie would aim for more existential themes on his next work. Now on his own, Wonder would utilize the skills he had honed naturally since he began his incredible run: unique, innovative synthesizers, group collaboration, expansive songwriting, and stylistic fusion.
A vibrant magnum opus
Songs in the Key of Life
In 1976, Stevie Wonder delivered Songs in the Key of Life. The title, he recounted in a 1997 documentary, came to him in a dream. But to actually create an album that musically relays the human condition was a daunting undertaking. The project took nearly two and a half years to complete, over which he made over 200 songs, according to one of the engineers that worked on the project. To make it, Stevie worked coast to coast (the album was recorded in four studios, two in LA and two in New York) with dozens of musicians—the album credits 130 collaborators, from Herbie Hancock to a Hare Krishna chanting group—to painstakingly craft his all-encompassing vision. Sessions were random, starting whenever Wonder would arrive (many times past midnight) and go late into the morning, or longer depending on Stevie's workflow. Songs were re-recorded, remixed, and remastered hundreds of times, to the point where the album's crew printed shirts with slogans like "We're Almost Finished" and wore them around the studio. Engineer Gary Olazabal recalled mixing "Contusion" "about 30 times"—a song Stevie had been working on since Fulfillingness' First Finale.
Despite the album's boundless ambition, Stevie somehow delivers across the album's 21 stunning tracks. Stevie's technical prowess is an instant standout. Stevie creates a live orchestra on "Pastime Paradise" and "Village Ghetto Land" with the Yamaha GX-1, a prototype synth Stevie called "The Dream Machine". He samples his daughter Aisha's childbirth, as well as him giving her a bath, on "Isn't She Lovely". Despite being surrounded by a gaggle of musicians, Stevie plays percussion, piano, and a variety of instruments again, as well as handling the composing, producing and arranging duties. Musically, the album is rich; the album opens with choir-backed gospel on "Love's in Need of Love Today", and subsequently explores everything from jazz fusion on cuts like "Contusion" to classical music on "Village Ghetto Land". Stevie sings three languages on the album, further showcasing his stylistic range.
Thematically, Wonder sets the tone of the album from its first sound. SITKOL begins with several voices humming. The arrangement evokes other forms of black choral music—a church choir or a barbershop quartet. By making his smallest unit of measure the community, Stevie reiterates an idea at the core of his Classic Period: we need love and connection, in every sphere of life. Lyrically, some songs, such as "Love's in Need of Love Today" and "Ngiculela", focus on our emotional connections to one another. Other songs, such as "Village Ghetto Land" and "Black Man" focus on the lack of connection between Black and white society, and the resulting consequences. Still others, such as "Have a Talk With God" and "If It's Magic" focus on our connection to the spiritual. Stevie also takes a moment to speak on the connections in his own life, specifically on "Isn't She Lovely", about Stevie's daughter. On February 2, 1975, Yolanda Simmons gave birth to Stevie's first child, Aisha Morris. In a 1978 interview with Woman's Own magazine, he explained how important she was to him, saying "…she was the one thing that I needed in my life and in my music for a long time". Here, we can see how Stevie's broader commentary on the importance of love and connection is informed by his own life and the transition to parenthood.
With such musical and lyrical range, SITKOL leaves no stone unturned. "Love's in Need of Love Today" sounds like a pale summer sunrise, while "If It's Magic" captures the stillness of a sunset walk. I blasted "Ebony Eyes" about my first crush; I wallowed in "Ordinary Pain" when I was rejected by my third. There is a song for every occasion; there has to be, with a runtime just under two hours. Songs in the Key of Life turned out to be more epic than musical record, and Stevie is more griot than musician by the album's close. But despite its wandering length and sprawling subject matter, Stevie more than meets the lofty goals he sets at the beginning of the album's liner notes:
"So let it be that I shall live the idea of the song and use its words as my sight into the unknown, but believe positive tomorrow and I shall so when in evil darkness smile up at the sun and it shall to me as if I were a pyramid give me the key in which I am to sing, and if it is a key that you too feel, may you join and sing with me."
End of an era?
Journey Through The Secret Life of Plants
In addition to being a commercial and critical darling and winning Wonder his third Grammy for Album of the Year, Songs in the Key of Life proved that Stevie could handle a large conceptual album. He would try to do it again on his next studio album, Journey Through The Secret Life of Plants. Originally a book about plant properties, Journey Through The Secret Life of Plants was then adapted to be a documentary. The filmmakers then connected with Stevie to produce the soundtrack for the film. While this process was well-established for sighted musicians—Miles Davis famously improvised the score to "Ascenseur por l'echafaud"—this wouldn't work for Stevie. So the sound engineers and the film producer would describe the scenes and their lengths to Stevie and record the information on a 4-track audio recorder, with the remaining two slots for Stevie to record music corresponding to the descriptions. This DIY recording process is emblematic of the album as a whole: while the fit between Wonder and the film is not immediate, it is nonetheless present and well-explored through innovation and experimentation.
JTTSLOP represents Stevie's transcendence from the deeply human, personal worlds he had been building throughout the classic period that culminated in the ultra-humanist, optimistic supernova that was Songs in the Key of Life. Dating back to Music of My Mind, what hallmarked Stevie's musical trajectory was his dedication to the exploration of the human experience through sonic texture and vocal expressionism.
Journey Through The Secret Life of Plants is a complete rejection of the tenets of "classic" Stevie Wonder, much in the same way that classic Stevie Wonder is a rebuttal against Little Stevie Wonder. Where the classic era (as it is frequently canonized ending after SITKOL) is continuous, increasingly maximal exercises in expressionism, Plants both looks further out and deeper in, stripping away the man from the music, embracing nature in a soft, impressionist marriage.
As it is a soundtrack, Plants is sprawling and whimsical. While much of Stevie's great works are epic in scale, there's a consistent standard of popular music conventions present just enough to glue his often lofty and freewheeling ideas together. Plants is not meant to be consumed in the same ways Innervisions or Talking Book were; those records exist alone, as standing individual artistic statements. Plants is built in tandem with its namesake documentary, frequently acting as just a score, or even ambience. Moments of peace abound; the album sounds like a stroll through a greenhouse, the subtle instrumentation on tracks "Voyage to India" and "Venus' Flytrap and the Bug" seems to bloom and blossom like spring buds. The instrumental arrangements are deft and swell and sway like plants soaking up the sun. In tense moments, the album creeps like vines, only to break out into serene, Minnie-Ripperton-style disco soul such as on the earthly ballad "Power Flower."
Stevie's devotion to encapsulating the unity between man and nature is brilliantly explored through the decisions he makes with voice. This is perhaps the Stevie Wonder record with the least Stevie on it, at least in the sense most are accustomed to, with him singing lead, his voice and songwriting running the show. Instead, he recedes to the back, only revealing himself to accentuate the topiary dreamland he builds over Plants' 90-minute runtime. More than any previous record in the classic era, Journey Through The Secret Life of Plants leans on the voices of others, creating a cohesive, communal focus throughout the project, blurring the lines between the space age plant funk and man, which ultimately proves to be the project's thesis.
The album would ultimately prove to be one of Stevie's most hated, largely because of the nearly insurmountable expectations placed on it after Songs in the Key of Life. For some critics, the album was a disappointing close to an otherwise spotless decade of music for Stevie. Rolling Stone called it "bloated and full of tedium", while the New York Times called out Stevie for "naivete as a serious composer" and "dissolving into ponderous self-importance". The lukewarm reception Plants garnered upon release is likely a result of the otherworldly expectations that come from releasing five perfect albums in less than 7 years. It pains me to do so, but the only analogue that feels appropriate was the polarized response to Kanye West's jarring departure from his established style leaping from My Beautiful Dark Twisted Fantasy to Yeezus (any rational person's favorite Kanye album). Opinions are valid, and disliking a record is your right, but deliberately misunderstanding the larger artistic statement behind radicalism in creativity is intellectually dishonest. Yeezus is abrasive on purpose. The album art is what it is for a purpose. Journey Through The Secret Life of Plants is not a Stevie Wonder album, it's his interpretation of our communal relationship with the natural world, and the sonic companion to a specific piece of visual media.
Journey Through The Secret Life of Plants is nothing like any record from the classic period nor the record that would immediately follow it, but it is undoubtedly a classic, and some of Stevie's finest, bravest and most touching work to date.
Fear of a Black Future
Hotter Than July
After releasing Journey Through the Secret Life of Plants, Stevie would stay quiet for a year while he readied the release of his next album. At this point, expectations were uncertain. The negative commercial and critical reaction to the album had somewhat shattered his veneer of musical invincibility. Furthermore, the driving funk and sweeping ballads that had earned Stevie so much success had fallen out of favor for newer genres like disco, quiet storm, dance pop, and others had taken their place. And, in 1980, Stevie turned 30. After a decade-long run of musical brilliance, it was fair to wonder if musical stagnation had begun to set in.
Despite these pressures to prove he could craft the same innovative hits that had defined the previous 10 years for him, Stevie did not design his next album to be a hitmaker, as he had with Songs in the Key of Life. Instead, he focused on personal inspiration and technical innovation, the simple formula on which he had built every other album. For Hotter than July, released September 1980, inspiration would come from sources like Bob Marley, who Stevie had recently befriended, and Dr. Martin Luther King, to whom Stevie dedicated the record. Since 1970, a bill had been stagnating in Congress to recognize MLK's birthday as a federal holiday. With help from Coretta Scott King, pressure to pass the bill intensified in the late 70s. Stevie committed himself to using Hotter than July to help push the effort to the finish line. He would host shows to raise support, like a '79 performance in Atlanta, and, growing out of that, a 1980 "King Holiday" Tour featuring Gil-Scott Heron and a surprise Michael Jackson performance at MSG. He wouldn't quit after Hotter than July came out—he held a 1981 rally on MLK's birthday at the National Mall, where Dr. King famously delivered his I Have a Dream speech, and helped to raise 6 million signatures for a petition to Congress. Finally, the bill to make MLK's birthday a holiday was signed on November 2, 1983.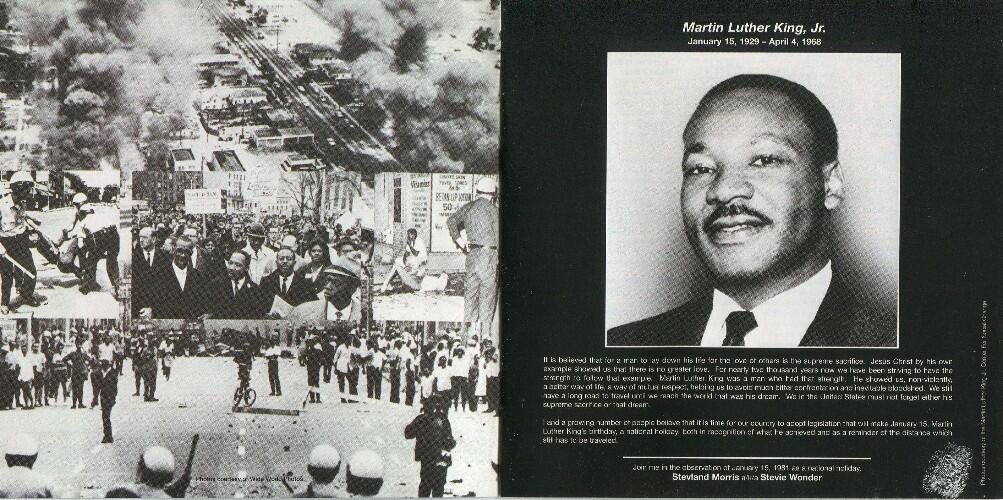 "It is believed that for a man to lay down his life for the love of others is the supreme sacrifice. Jesus Christ by his own example showed us that there is no greater love. For nearly two thousand years now we have been striving to have the strength to follow that example. Martin Luther King was a man who had that strength. He showed us, non-violently, a better way of life, a way of mutual respect, helping us to avoid much bitter confrontation and inevitable bloodshed. We still have a long road to travel until we reach the world that was his dream. We in the United States must not forget either his supreme sacrifice or that dream.

I and a growing number of people believe that it is time for our country to adopt legislation that will make January 15, Martin Luther King's birthday, a national holiday, both in recognition of what he achieved and as a reminder of the distance which still has to be traveled.

Join me in the observance of January 15, 1981 as a national holiday.

Stevland Morris a/k/a Stevie Wonder, from liner notes of Hotter than July
To make the album, Stevie would relocate from the Record Plant to a more personal space, buying an old studio in Hollywood that would eventually be dubbed "Wonderland". The studio was so ancient that the recording equipment, since obsolete, had been ripped out. This would turn out to be a blessing in disguise for Stevie. To accommodate, he connected equipment to a recording truck outside, which he filled with the most advanced recording technology for the time. Here, he could record when he wanted, with who he wanted, at his pace*—the exact conditions needed for any Stevie classic.
*A staple of the Stevie recording process was "Wondertime". As an engineer who worked with him explained, due to his lack of eyesight, Stevie's internal clock is not synced with the sun, leading to hectic recording hours often late into the night and into the morning. Another odd staple of the process was air hockey. Per multiple sources, Stevie learned the game at the Record Plant Studio, then had a table installed at Wonderland. Allegedly, he is/was nearly unbeatable. No, this is not a joke.
Hotter Than July is a brilliant record, merging the staple sounds and techniques from classic period records like Talking Book and Songs In the Key of Life with space-age synth funk that would soon take over the world, thanks to two nobodies named Prince and Michael Jackson. The mere fact that Hotter Than July predates both 1999 and Thriller by two years is astonishing considering just so far ahead of time each of those records were and still are. The funk is turned up to 11, evident in the earliest notes of the intro track, "Did I Hear You Say You Love Me," a groovy, driving post-disco romp that would be right at home on Off The Wall (an album that Stevie worked extensively on). The record boasts continuations of the classic Stevie and the eclectic Stevie found on JTTSLOP, spacey vocal runs and adlibs, abstract horn arrangements and layered percussion. Plants is basically a record dedicated to the power of the vibe, and vibing out is essential to the progression and experience of Hotter Than July.
"Did I Hear You Say Love Me" glides seamlessly to the mellow, Herbie Hancock-esque electric piano ballad, the instant classic "All I Do." Perhaps more than any other track on the project, "All I Do" best embodies the ethos of Hotter Than July: the sweltering, summer heat of love, pride and joy, balanced against a cool undertone, hinting at the softer sonic and thematic detours the album would take. Stevie gives listeners no time to breathe, going from "All I Do" to one of the best deep-cuts in his catalog, "Rocket Love" featuring twinkling synth pianos and feathery string arrangements. The song is layered and intimate, a cool reprise from the heat of it all. That heat, the fiery love that is so poignant throughout the album is not just limited to the romance in Stevie's lyrics, it is also reflected in the Pan-African, ethnographic composition and production of the project. There are West African drum patterns scattered across the records, overt adaptations of reggae and dancehall as heard in his cover of Bob Marley's "Jammin'," vaudeville-adjacent bluesy, country grooves on "Ain't Gonna Stand For It," and Stevie's trademark abstract-expressionist soul all throughout. The dedication to Dr. King, the Kente cloth and dreadlocked album artwork and the sonic affirmation of global Blackness all add distinct layers of powerful, prideful, unabashed Black love.
Ultimately, Hotter Than July transcends aesthetic Blackness, taking from the long tradition of disparate Black music to create an Afrofuturistic vision of the future, a vision that would be realized not too long after the record's release. The melodic refrain on "As If You Read My Mind" is a precursor to Chicago house, which would break the electronic music world wide open just a few years later. "Do Like You" continues the proto-house wave, sounding something like a Frankie Knuckles take on "Sir Duke". The album traverses Black history and stays true to its oral tradition with Stevie Wonder, at the old age of 30, serving as elder statesman, oracle, chronicler and storyteller.
Though Hotter Than July is not generally considered to be part of the classic period, it in fact marks the end of that era of Stevie Wonder. Stevie retraces his steps and pores over the chronology of Black music, merging international and intergenerational sounds to produce a clairvoyant expression of what was to come. Ultimately, he was right. His immediate successors, Prince, Michael Jackson, house music pioneers in Chicago and Detroit, and trailblazing artists driving the newborn genre of rap, all have evident roots in the sound of Hotter Than July.
No discussion of Hotter Than July is complete without mentioning its most enduring song, "Happy Birthday." Stevie takes a simple melody and absolutely freaks it, shifting the cadence of the traditional Happy Birthday to common time, adding those triumphant synths, and knocking drums, effectively composing a modernized spiritual. The reason for all of the over-the-top joy is that it's not just anyone's birthday—its Dr. King's birthday. While the album dedication and its social themes would help sell the idea of a Dr. King holiday, nothing quite summed it up like "Happy Birthday". Its power endures as a burnishing example of Black joy, mostly in a cappella birthday renditions strong enough to dislocate someone's shoulder.
Hotter Than July marks the end of the classic period not because it is Stevie's last great record, or because it is beneath the standards he set, but because it is inherently separate from the style cultivated during the time. Hotter Than July is an exercise in Afrofuturism, and futurism must exist separate from classicism, because it is a textile integration of fragmented elements of classicism. With Hotter Than July, Stevie closed the curtains on the most prolific, creative period of musical development in modern history by producing a record dedicated to the accomplishments of the past, and determined to pass the torch to the futurists that would create a new definition of classic.
Read Part 2 of our Stevie Wonder series here.